By Lance on Jul 23, 2008 in Sex
A fellow named Wizard wrote a comment on one of my fuck buddy posts here. I started to write a long winded comment, but decided to blog about it instead because I got really fired up. I'm risking losing a reader, but screw it, we don't pull punches around this blog. Wizard, you're going to get roughed up a bit, but suck it up big boy because you've got it coming.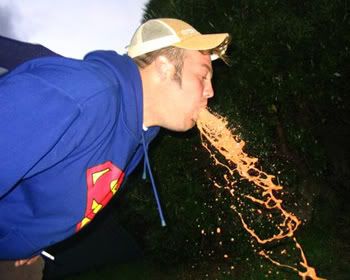 Here's what Wizard wrote:
Initially thought my FB would only last a few weeks… 2 years later its a habbit harder to shake than heroin. We've both been through the reasons (I have Wife+Kid / She has Fiance) but we cant seem to shake the whole situation. We both invent random reasons every second day to see each other, although we both know what were after as we have zero interest except for the sex. (I cant say no, and she cant turn down my Size)

I feel like i could keep this rolling for the rest of my life, but its just not practical – suggestions?
Bro, you don't have a FB, you've got a full blown girlfriend and you've been fucking over your wife for two years, as opposed to fucking her, which is what you should have been doing. If you're nailing this other chick every other day, I can't imagine there's much in the tank leftover for your betrothed. You sir, are a humongous douchebag. I have four suggestions:
1. Dump your girlfriend immediately. Do not have a talk, don't even see her, don't make plans for the future. Do it over text or email and be terse about it. Drop her like she's hawt. "Sorry, it's over, I can never see you again."
2. If your family must stay together, then never tell your wife and go to your grave with this knowledge eating you from the inside. If it eats at your soul, deal with it.
3. If your family can handle it, fess up, begin divorce proceedings, split up. Under no circumstances are you to get together with your little girlfriend afterwards. She's gone. All parties involved must go through the grind of being single again. The ordeal of post-divorce singleness will begin repairing your soul and hopefully your ex-wife will be able to find a cool guy to copulate and co-habitate with.
4. After you're single and you get into another LTR, you must establish at the BEGINNING that you can't be monogamous and you need sexual variety. She must agree wholeheartedly and be allowed the same thing. Then you can go on your merry way fucking other people with a clear conscious. If she doesn't agree, then keep looking and keep dating. Those are the rules.
I believe sex with other partners in a marriage context is totally possible, but you need to establish it and embrace it early on. No lying or sneaking around. If you really needed to get a bit of trim on the side without the wifey knowing, go see a prostitute, that's what they're for.
The length of your cock is irrelevant. The fact that your wife isn't getting any sex makes you an uber-douche of the highest caliber. Fix this situation immediately.
[tags]fuck buddy, cheating, mistress, unfaithful, sex[/tags]